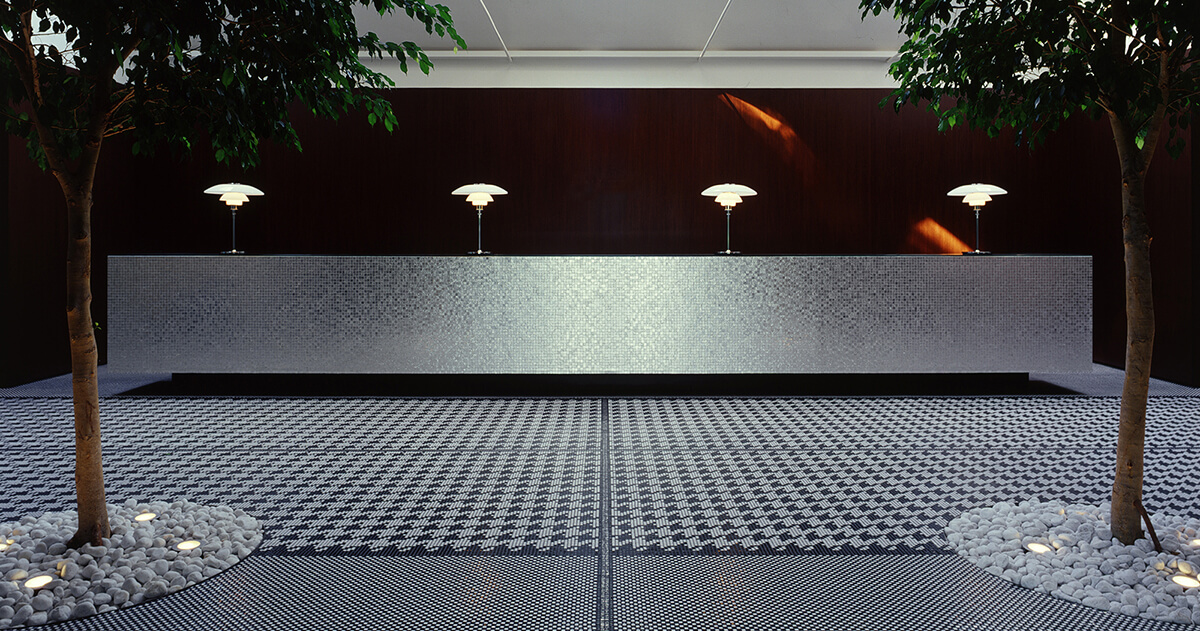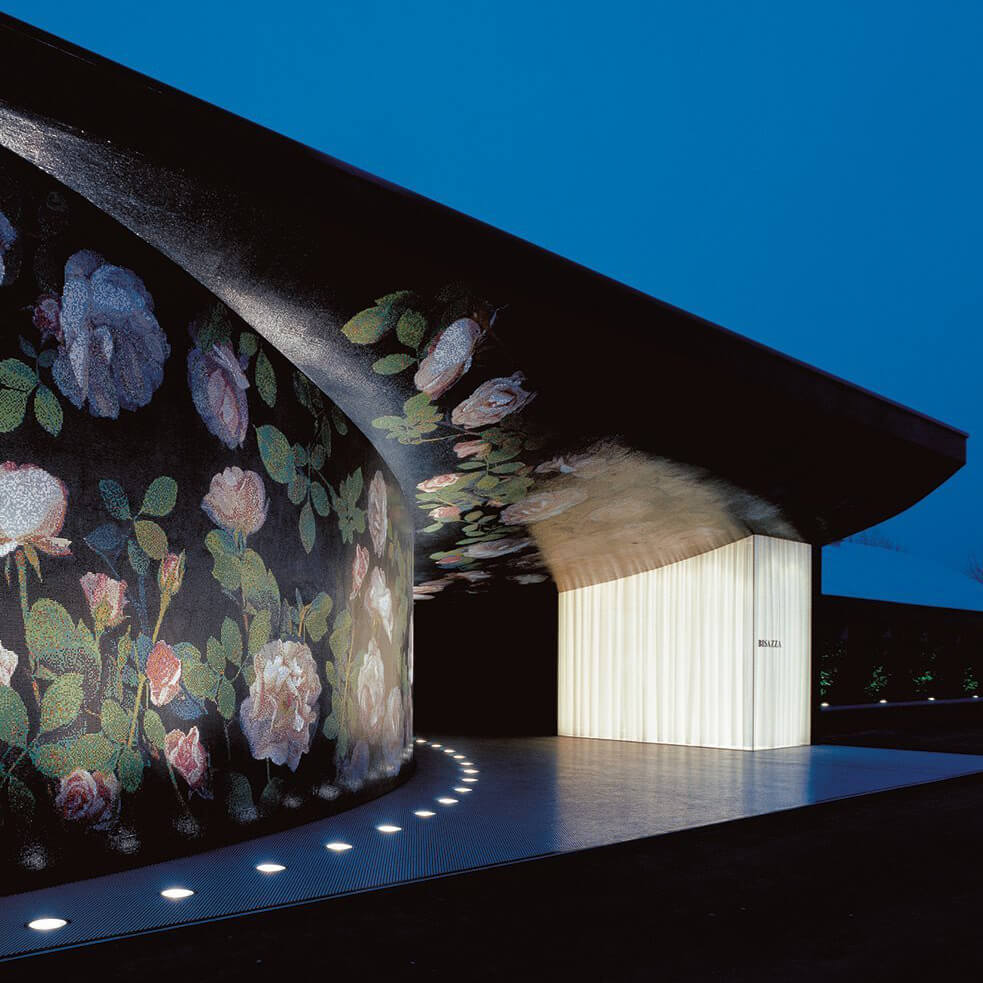 Bisazza
Bisazza is one of the top luxury brands in the design sector and a world leader in the production of glass mosaic for interior and exterior decoration. In recent years, the company has expanded its collections by creating, through careful processing of new materials, new decorative offerings, which combine the value of design with the charm of craftsmanship. Bisazza today offers a wide range of luxury décor and furnishings suitable for any living and outdoor area -- the expression of a unique style that brings a contemporary flair to the classic by combining elements of fashion and design.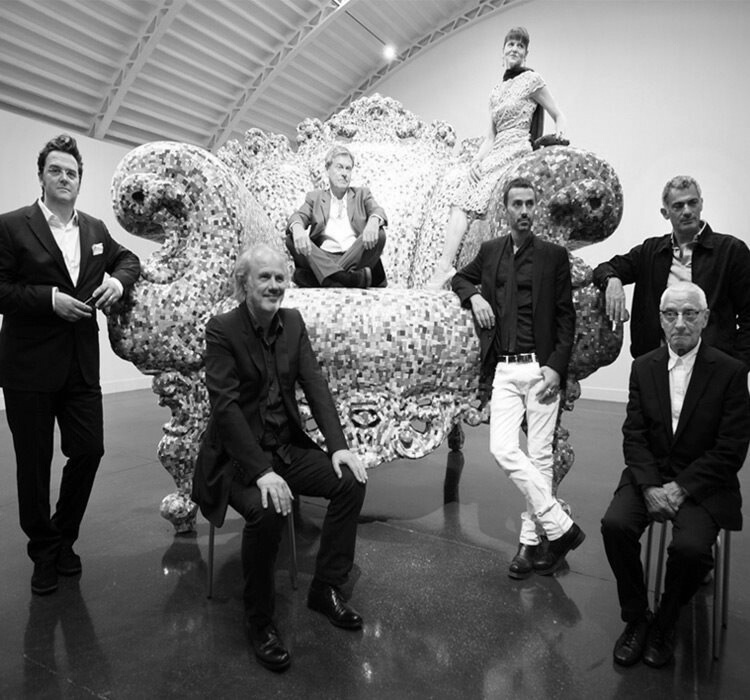 Designer
For more than twenty-five years the company has been working with internationally renowned designers, becoming a reference point in the world of design. Temporary installations for international events, audacious architectural projects, and unique collections have grown out of the intense collaborative partnerships with leading figures in the worlds of architecture, art, design, and fashion, including: Shigeru Ban, Tord Boontje, Marco Braga, Fernando and Humberto Campana, Sandro Chia, Aldo Cibic, Antonio Citterio and Patricia Viel, Carlo Dal Bianco, Tom Dixon, Fornasetti, Romeo Gigli, René Gonzalez, Michael Graves,Tricia Guild, Jaime Hayon, Ferruccio Laviani, Steve Leung, India Mahdavi, Jürgen Mayer H., Richard Meier, Alessandro Mendini, Greg Natale, Paola Navone, Nendo, Fabio Novembre, John Pawson, Fabrizio Plessi, Andrée Putman, David Rockwell, Ettore Sottsass, Studio Job, Hiroshi Sugimoto, Patricia Urquiola, Oscar Tusquets Blanca, Kiki van Eijk, Edward van Vliet, Marcel Wanders and Emilio Pucci Maison.
Discover our designer
From 1956 to now
Established by Renato Bisazza in 1956 in Alte, Vicenza, Northern Italy, the company has become a trailblazer, marked by a dynamic entrepreneurial spirit, a mastery of modern technologies, and an ability to read and anticipate the needs of the global market. The company's distribution network currently includes 4 flagship stores in London, Milan, New York and Paris and 2,800 local retailers around the world.
Chronology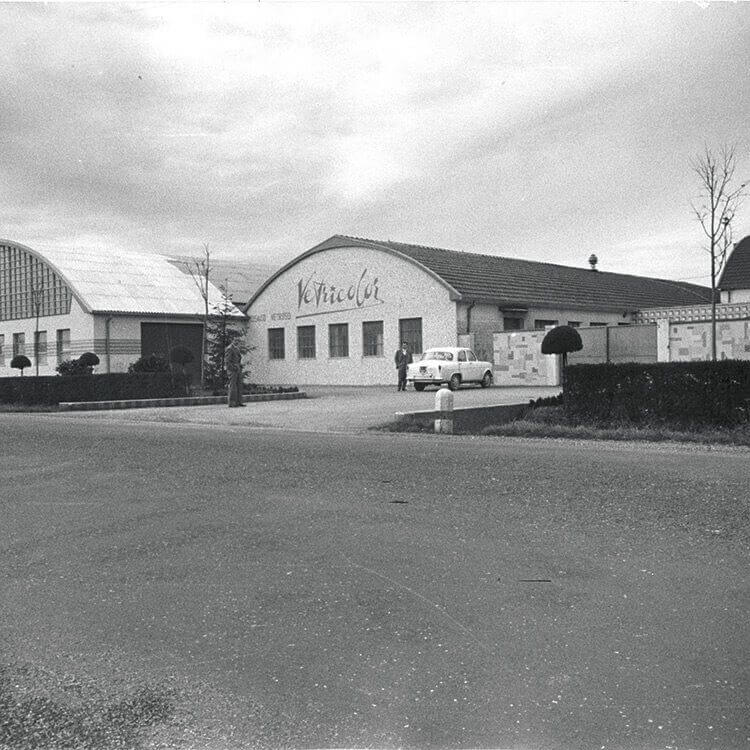 Renato Bisazza
In 1956
Renato Bisazza
established his mosaic manufacturing business in Alte (Vicenza) and called it Vetricolor, also the name of the first standard production tile manufactured during that time – a tiny square of colored glass (measuring 20x20mm) that went on to become legendary for the company. This visionary approach led the founder to create a new product for interior and exterior decoration, utilizing industrial manufacturing systems, while maintaining the artistic workmanship typical of the mosaic tradition. During the 1960s, glass mosaic proved to be the perfect material for cladding the exterior of
buildings, thanks to the extremely high degree of weatherproofing it offers. Some of the most high-profile jobs included cladding the facades of public, residential and
commercial buildings in Italy and France.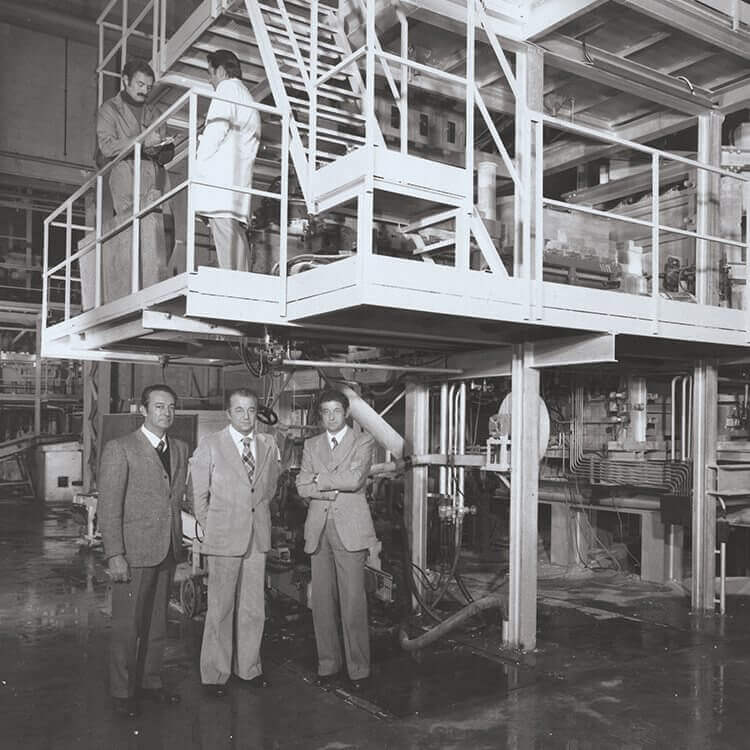 Innovation
Ongoing technical research goes hand-in-hand with an increase in the company's production capacity. Continuous electric furnaces, able to operate 24 hours a day, became available in the 1970s and were brought in to replace the company's methane gas batch furnaces. This innovative move was a major landmark in the company's progress toward industrial production; with it came extensive expansion into Europe and the Far East.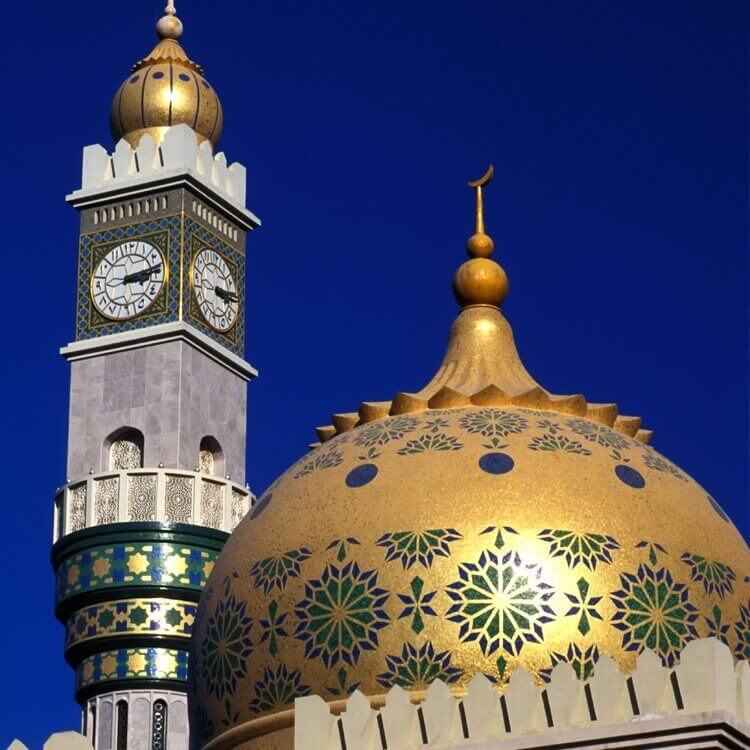 New markets
The 1980s usher in a significant diffusion of mosaics on an international scale. Markets in Africa and the Middle East are growing rapidly and it is precisely from here that the largest orders arrive. The domes of mosques are decorated with gold mosaic tiles and friezes, crafted in the traditional opus tessellatum artistic technique. The first Bisazza branch opens in Hong Kong.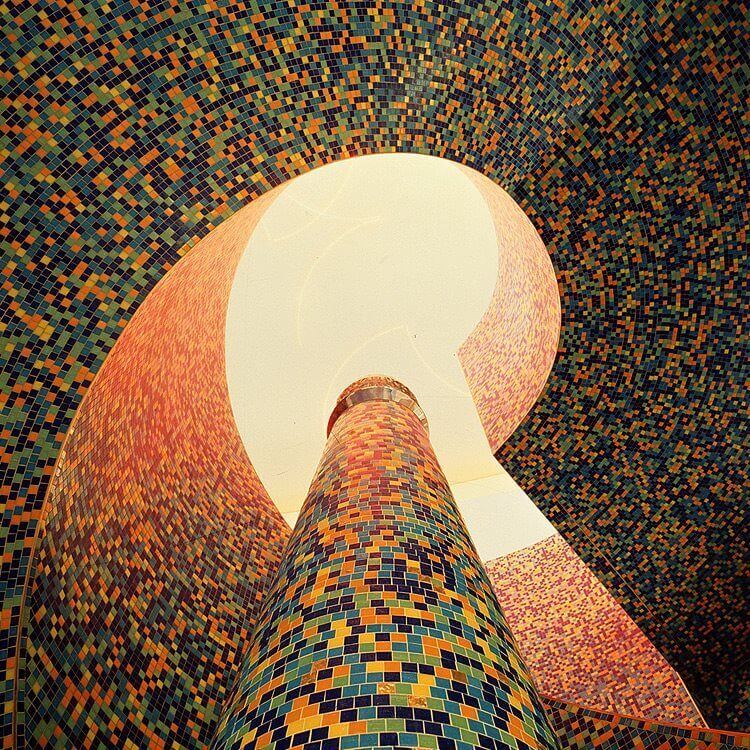 Bisazza Spa
In 1989 the company officially changes its name from Vetricolor to Bisazza S.p.A. It is during the 1990s that Bisazza mosaics break into the field of private and public interior decor. Detailed focus on product quality, design research and ongoing expansion of its collections turn Bisazza products into increasingly sophisticated decorative items, capable of revolutionizing the world of interior design. A period of formidable expansion begins in the American market with the opening of a branch in the United States, and is followed by the opening of a branch in India.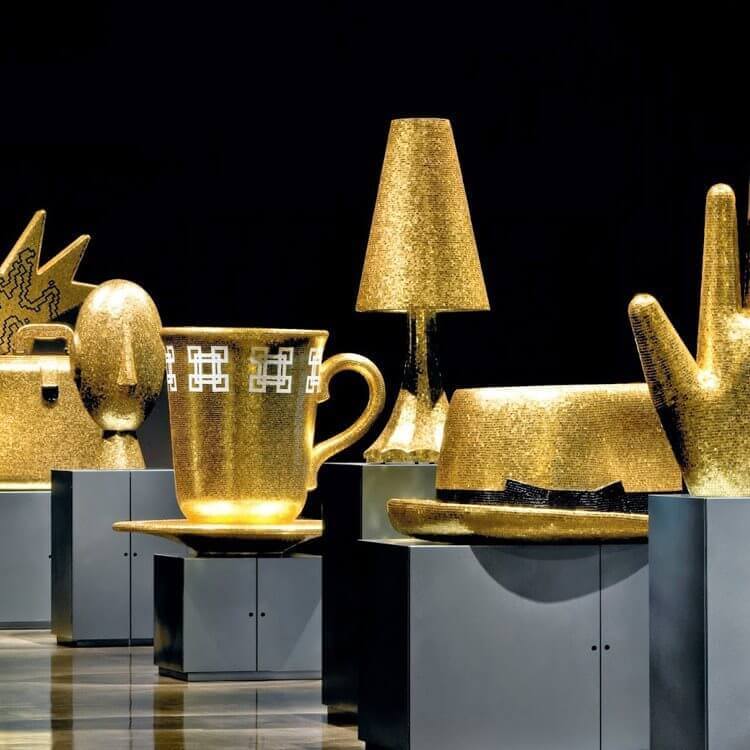 Alessandro Mendini
From 1995 to 1999 Alessandro Mendini serves as the company's Art Director. Under his direction, mosaics gain immense visibility. Mendini uses them in architectural projects, in public spaces and in venues with a cultural focus, like the Groninger Museum in Holland, the Louisiana Museum in Denmark, the Fondation Cartier pour l'Art Contemporain in Paris, the Casino in Arosa (Switzerland), the Maghetti District in Lugano, and the subway stations in Naples (2001-2004).During his tenure, Alessandro Mendini also puts his signature on Bisazza's first showroom in Milan (Casa Bisazza) and later in New York. In 1996 he curates the Artinmosaico show in Naples, for which mosaic works and objects by a roster of famous artists were commissioned: Michael Graves, Isao Hosoe, Javier Mariscal and Oscar Tusquets. In 1997 he designs the first pieces for Mobili per Uomo (Furniture for Man), a collection of nine oversized sculptures completely covered with 24 k gold mosaic tiles, that later become part of the FONDAZIONE BISAZZA permanent collection.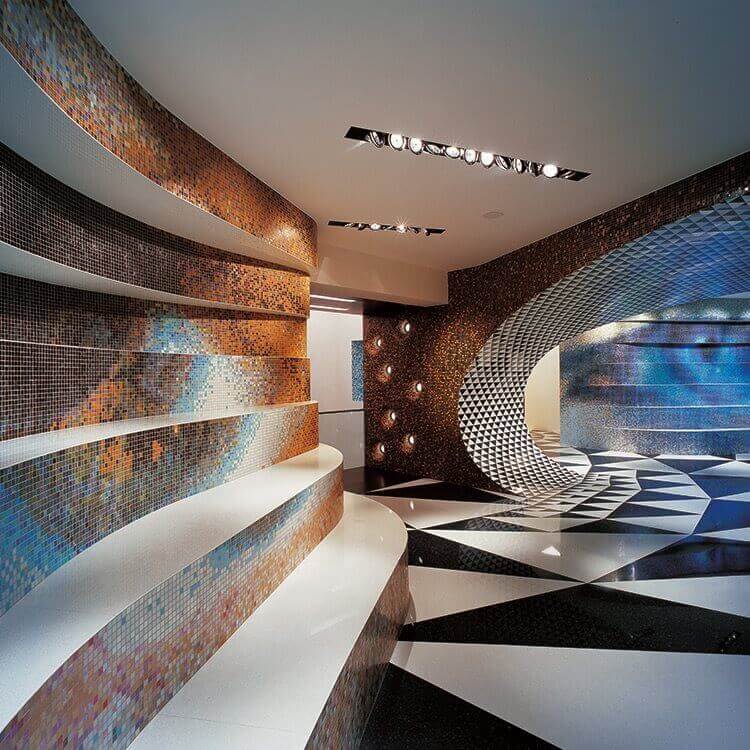 Flagship Stores Opening Collaboration with Designers
The company's decision to implement direct distribution leads to the opening of monobrand stores in the major design cities around the world: Milano (2002) New York (2003) Berlin (2003) London (2005), Paris and Barcelona (2006), Los Angeles and Miami (2009). Following Fabio Novembre's art direction, the company decides to engage big names from the fields of architecture and design who take their turn working with mosaics: Tord Boontje, Aldo Cibic, Antonio Citterio and Patricia Viel, Sandro Chia, Carlo Dal Bianco, Tom Dixon, Romeo Gigli, Michael Graves, Jaime Hayon, Alessandro Mendini, Paola Navone, Nendo, India Mahdavi, Fabio Novembre, Fabrizio Plessi, Andrée Putman, Ettore Sottsass, Studio Job, Patricia Urquiola, Edward Van Vliet and Marcel Wanders.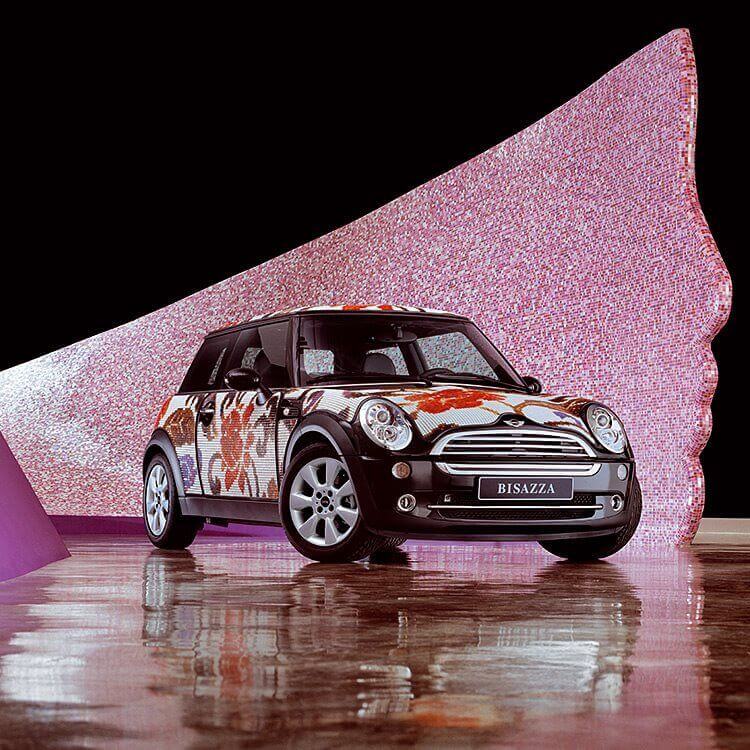 Mini Wears Bisazza
In 2005 at the Salone Satellite (Salone del Mobile furniture show) the "Mini wears Bisazza" project is unveiled, an eye-catching partnership between MINI and Bisazza: five cars "dressed" with the most iconic mosaic patterns from the Bisazza collection. After the show, the project benefited from strong international media coverage as it toured with a roadshow that stopped in the hottest international design capitals.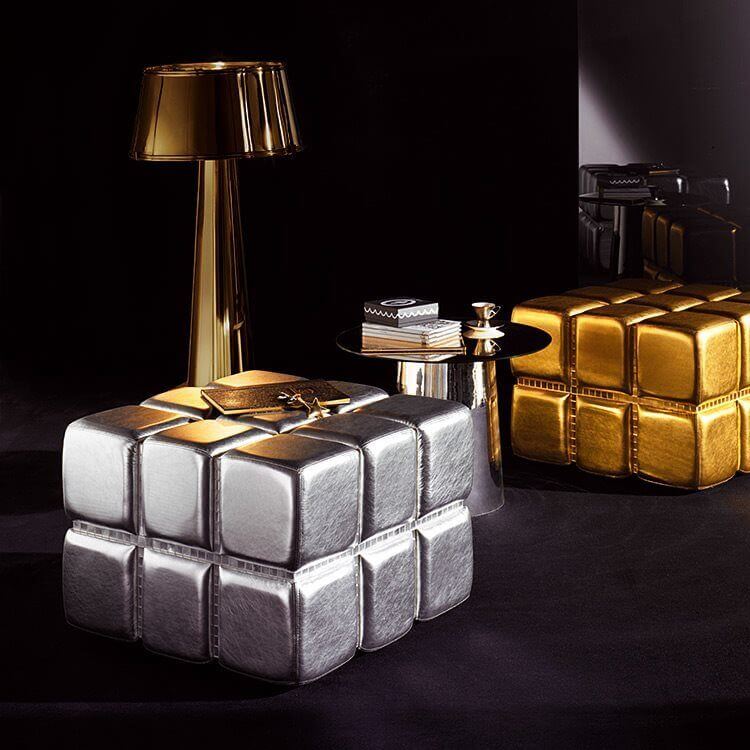 Bisazza home
In 2006, the company debuts its new Bisazza Home line, a collection of furniture and home accessories created by renowned designers: Andrée Putman, Marcel Wanders, Patricia Urquiola, Jaime Hayon, J. Mayer and Carlo Dal Bianco. Once again, thanks to their great potential for expression and their artisan properties, mosaics find a new application in these partnerships.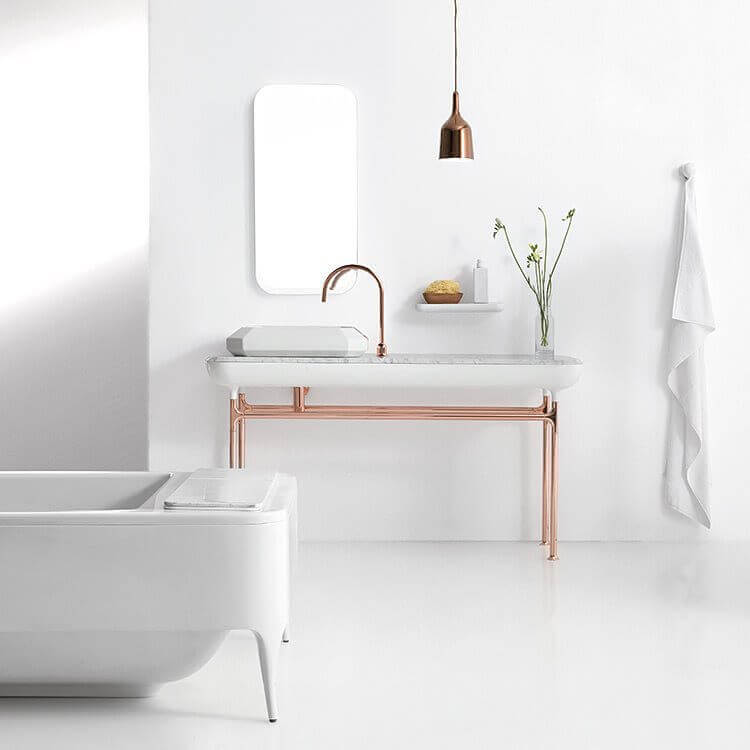 Brand extension
In-keeping with Bisazza's new vision to extend the brand, BISAZZA BAGNO - a new collection signed by Jaime Hayon, Marcel Wanders and Nendo, dedicated to the production and distribution of bathroom furnishing for private homes and hotels – is launched. Thanks to its luxury positioning, Bisazza mosaics are sought after by internationally-known architects who design spas, suites and swimming pools for the world's most luxurious hotels.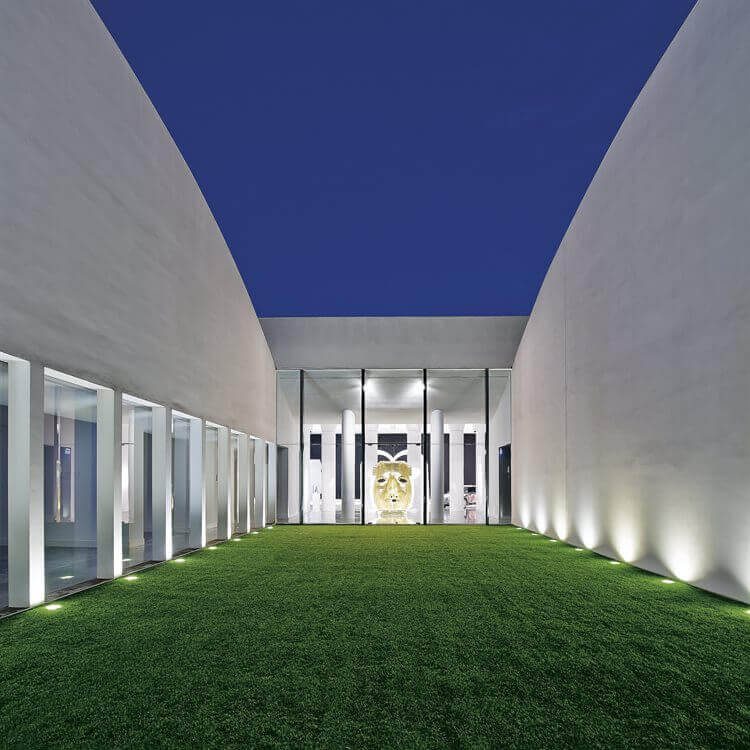 Fondazione Bisazza
In June of 2012 the Fondazione Bisazza is inaugurated, a new cultural space dedicated to contemporary design and architecture. In addition to a Permanent Collection of works and installations created by internationally celebrated designers for Bisazza, the Fondazione halls also host a series of temporary exhibitions from renowned institutions around the world.
Bisazza wears Emilio Pucci
In 2014 the "Bisazza wears Emilio Pucci" collection makes its debut. The line includes digital patterns and limited edition artistic mosaic decorative panels inspired by historic prints from legendary fashion house EMILIO PUCCI.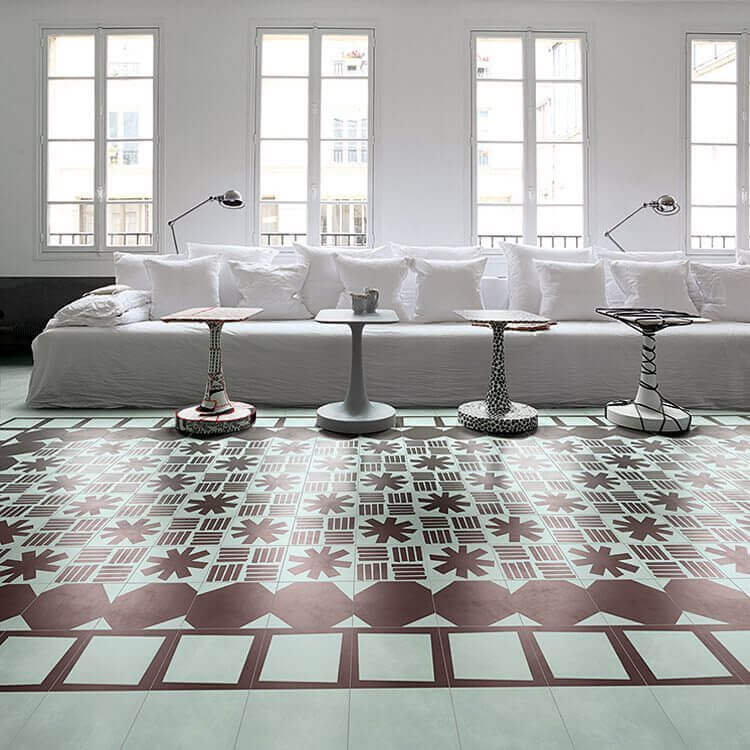 Cementiles
In 2015 the company further diversifies its product line, launching the Bisazza Cementiles collection, a new line featuring a contemporary, sophisticated interpretation of traditional cement tiles typically used in the palaces and mansions of nobility and the privileged classes during the second half of the 1800s and early 1900s
Wood
In 2016 Bisazza has launched Wood, its first collection of decorated parquet in oak designed by Studio Job, Kiki van Eijk and Edward van Vliet.
Marmo
​The Bisazza flooring range now includes the new Marmo collection. With its unrivalled heritage of design and decoration, Bisazza offers a series of patterns inspired by the tradition of an eclectic use of colours for stone flooring, with a contemporary feel.​
The Mahdavi Collection
Bisazza presents a new line signed by famous French designer India Mahdavi for the BISAZZA BAGNO Collection. An original and sophisticated solution to personalize the space dedicated to well-being with rounded-shaped bathroom furniture pieces in three rich pastel colours - pistachio green, strawberry pink, and blueberry blue - but also in Just White.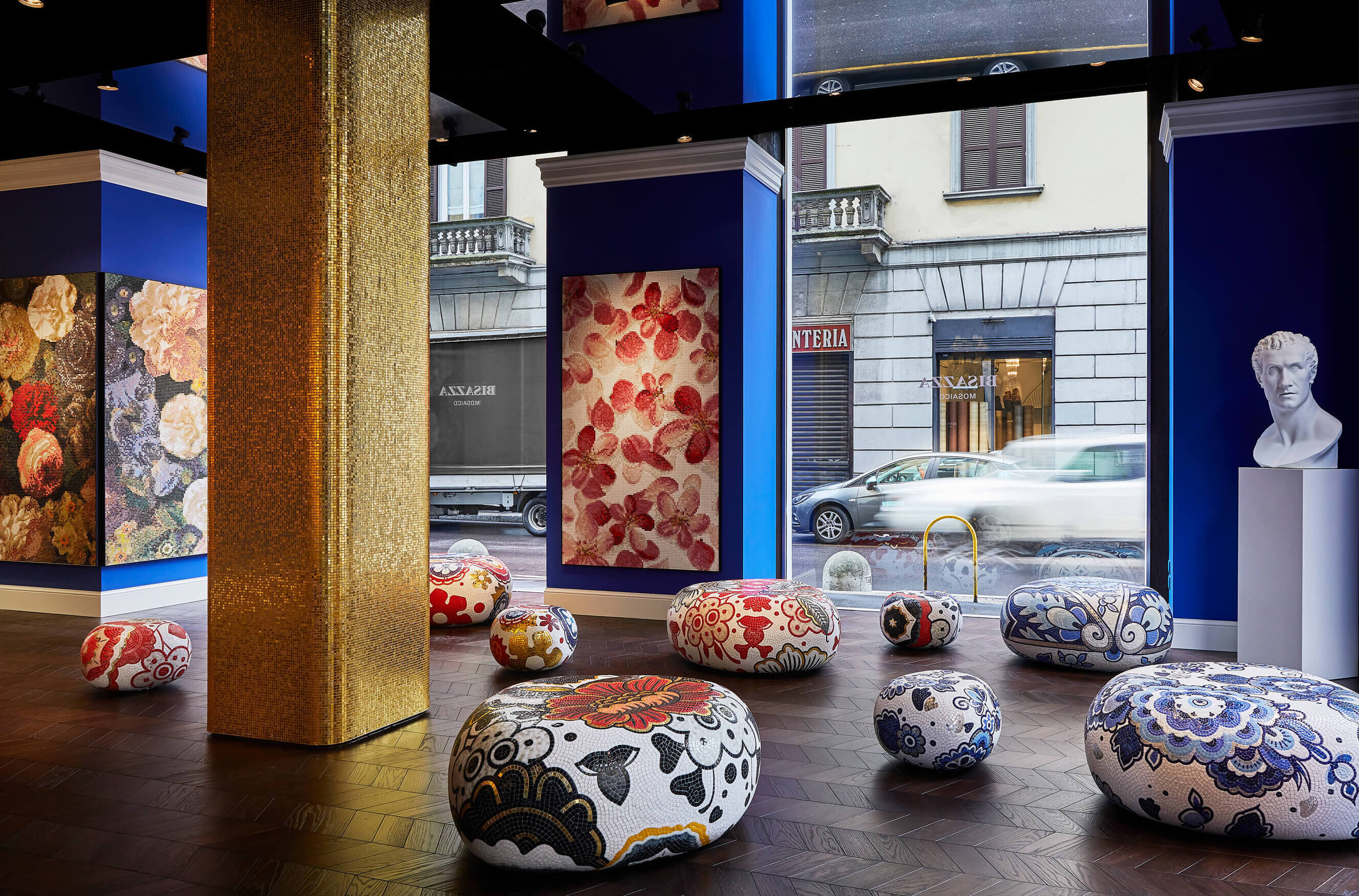 MILANO FLAGSHIP STORE
During the Milan Design Week, inauguration of the new Milanese flagship store at via Solferino 22, in the heart of Brera.
The new exhibition space, spread over an area of 200 square meters, houses all the Bisazza collections: Mosaico, Bagno, Cementiles, Wood, and Marmo.
On this same occasion, Bisazza presents the Pebbles Collection, a new line of limited edition coffee tables signed by Marcel Wanders, created to celebrate the fifteen years of collaboration between the company and the Dutch designer.
Collezione Fornasetti
Launch of the Collezione Fornasetti, a new mosaic collection born from the collaboration with Fornasetti, a design brand internationally renowned for its unique decorative style.
Four mosaic patterns - Ortensia, Bocca, Serratura and Soli a Capri - originate from the encounter between the two Italian design masters. A contemporary interpretation of some of the most iconic Fornasetti's images that, taken apart and reassembled, explore new surfaces, lavish proportions, and remarkable reflections of light.
COLLEZIONE STUDIO KO
Premiered in Paris, during Paris Déco Home, COLLEZIONE STUDIO KO is a contemporary line of marble patterns signed by the French architect duo, Karl Fournier and Olivier Marty, founders of Studio KO. The collection, the first Studio KO partnership with the Italian brand, reinterprets the natural elegance of marble with contemporary flair, drawing inspiration from the classic Italian tradition – from Pompei to the floors of St. Mark's Basilica, to the architectural works of Gio Ponti and Piero Portaluppi. A remarkable combination of geometric patterns and contrasting interplays of light and shadow characterizes Modulo 1, Modulo 2 and Modulo 3, three patterns with a modernist aesthetic, each of which comes in three different colors: Chiaroscuro, Monocromo and Policromo.